Personal Photo
Options
Custom Title
Blue Juliet
Personal Info
Location: No Information
Born: 12 December 1996
Website: No Information
Interests
No Information
Other Information
Gif Image: http://i.imgur.com/JJHIX9U.jpg
Application: http://msredeemer.jcink.net/index.php?showtopic=198&view=findpost&p=482
Alias: EVA
Age: 19
Occupation: Second Rook - MS Pilot
Affiliation: HELGHAST
Plotter: http://msredeemer.jcink.net/index.php?showtopic=271&view=findpost&p=740
Theme Song: https://www.youtube.com/watch?v=mxvfieTkARI
Mobile Weapon: http://msredeemer.jcink.net/index.php?showtopic=236&view=findpost&p=590
Statistics
Joined: 25-June 15
Status: (Offline)
Last Seen: Nov 13 2015, 11:58 PM
Local Time: Jun 21 2018, 12:52 PM
42 posts (0 per day)
( 4.65% of total forum posts )
Topics
Posts
Comments
Friends
Jun 29 2015, 10:30 PM
I'm going to be away from Wed, July 1 to Sat, July 4. I'll have limited internet access so I'll try to drop in now and then. But overall, activity will be slow.
Jun 27 2015, 07:33 PM
MAGNUS, EVANGELINE
12/12/AR09


Age: 19
Nicknames: Eva, BlueJuliet (Arcade/Game Hi-Score Name)
Occupation: Test Pilot for Magnus Corp. Tech
Rank: Currently N/A
Hometown: Airucam


Hair Color: Light Blue
Eye Color: Blue
Height: 5'9"
Weight: A lady never reveals her weight. (~140lbs.)
Ethnic Background: Half-Eden


Personality:
Evangeline, to sum her up, is determined to accomplish any task she is given. Whether it be something stupid or something really dangerous, Eva's the girl for the job. She will use everything in her power, resources, time, and energy to make sure that she lives up to her name and finishes the job. Of course, she's prideful and really cocky toward her accomplishments as well, and would, without qualms, show anyone who she really is without much mercy. This singular minded style of thinking continues to get her through the most difficult of crisis but also gets her into more trouble than its worth often. And despite her best attributes as a pilot, Eva has a great trouble with authoritarian rules. She, honestly, tries her best to follow protocol, but she's simply to stubborn to do so. There are only a few people that she truly listens to and argues wholeheartedly with, particularly her brother. She won't hesitate to deviate from any plans if she can formulate her own, but she always makes sure that everyone is aware of her plans and can be talked down if needed (but it takes much persuasion to do so). She also likes to be in the spotlight and particularly showy moves that can often compromise her safety (but never the mission). However, she does hide her sadistic tendencies, knowing fully that it could lead her to unnecessary trouble. Having been a victim of hostile feelings (for her affiliations or simply who she is), Eva is cruel and vindictive to those who have wronged her directly or indirectly. She just couldn't help but have a surge of pleasure from hearing someone scream or seeing unnecessary chaos.

In what she calls her "other life", Evangeline is a typical 19 year old who enjoys fashion and photography. Although, she's rather rough and brash due to her upbringing. Carrying the "shoot first, ask questions later" philosophy into her daily life, she does not hesitate to go head-first into any conversation and argument. She shows no restraint in expressing her opinions. However, she's also aware of her position, and would not try to pick a fight that she could not win. A learned tactician, she's learned to pick her battles. Yet, people's first impression of her isn't always correct. She's not unfriendly and cold, and is in fact quite the opposite. She often goes out of her way to introduce herself to someone and will decide after a few conversations whether or not one is worthy of pursuing a friendship with or not. Of course, she's used to "friends" leaving her because they're unable to handle her brutal honesty but Evangeline is truly loyal to those who stick with her through thick and thin. She hopes now that she'll get along fine with her new teammates, knowing that it will be all for the best.


Family Background:
Evangeline Magnus was born to Alexander Magnus, the heir to the Magnus Corporation, and his partner Elena, an Eden who works with Alexander as one of the top mobile arms researcher. Evangeline is preceded by her older brother Arran Magnus, born eleven months before her. She and her brother were always assumed as twins considering they were born in the same year and neither of them ever corrected anyone as they considered themselves as close as twins.

While her brother was set to inherit the company, Evangeline still underwent the same education in commerce, arms research and diplomacy as her brother. She and her brother had access to top research within the Magnus Corporation (even after it was assimilated into the Helghast Empire). Their mother acknowledged their talents and abilities and often enlisted them to help her with further research and testing. Their parents believed that children learned best so both Evangeline and Arran had learned how to use mobile weapons from simulators and actual testing even at the tender age of eight. Evangeline knows that their family is driven heavily by their company, and as dysfunctional as it is, she wouldn't want it any other way.


IC History:
Evangeline Magnus was welcomed into the world on a cold December day in Aeternus. Born to a then 38 year old Elena Klein and a 29 year old Alexander Magnus, Evangeline was an unexpected birth as she was the second birth within that year - only eleven months younger than the eldest brother Arran. As an immediate family member to the owner of the Magnus Corporation, Evangeline was rich and spoiled rotten as a child. However, it wasn't all rainbows and daisies in the life of the young girl. Constantly receiving what she wanted had an effect on the young Eva, a trait that would eventually be a blessing and a curse. As soon as she began pre-school, her parents were constantly called by the school administration concerning the girl's behaviour. Many commented that she was an outgoing child, but would act out quite dramatically whenever she didn't get what she wanted. Her parents, in an attempt to discipline her, decided that she and, consequently, her brother would be placed in an accelerated program - hoping that the two children would grow out of the phase and be out of their hairs.

Evangeline rose to the challenge splendidly. At the elite academy, she became known in school for various things. Visitors would always be amazed at the knowledge, creativity and maturity that the young girl displayed. Her peers, however, were in awe for a totally different reason. She had earned most of their respect by being at the top of everything (consequently having only her brother beat her) and even achieved high scores in various games in arcades. Of course, being half-Eden, she has received her share of scorn but Eva shrugs it off - they were too afraid to take it up directly with her. When her caretakers had reported that Evangeline spent too much time at the arcades, Evangeline's mother had determined that her daughter should spend more time with her in developmental research as a tester. Evangeline received an outstanding education, and stood out due to the ferocity she imbues when tackling her problems. Still, her habits of undermining authority persisted and had caused more problems than acceptable. Her family's influence and her performance in set tasks allowed for the administration to overlook her offenses. Evangeline slowly trained physically and in tactics, alongside a plethora of piloting lessons.

At age 13, the family company decided to move to Airucam. Evangeline was devastated that she would have to leave her familiar surroundings, but was excited about the prospect of a new world. Unbeknownst to her, the Magnus Corporation had entered an agreement with the Helghast Empire and was now under their control. With new technology, developments within the company sky-rocketed and Evangeline was pleased at the prospect of trying new things. For the next 5 years, she continued her training and was now trained further in systems engineering as well as improving her dismal physical performance levels. She accepted it all, though was suspicious about the true intentions of her patriarch. Her brother was meant to inherit the company, and Eva knew that he would do well. She had a sneaking suspicion that she was meant for a more direct route to power - militaristic. Her training certainly matched that of a soldier's and as much as she dislikes being used by the family, she's exceedingly good at it. Her suspicions grew stronger when she was being started to be lent out to test pilot several other developments with the Empire. She was given a break by her father before she would be "tested in the field" (his words). Unsure of what the future holds for her, Eva only knows that she was going to try her damn hardest to not only live up but exceed any expectation set on her.

Nov 13 2015, 11:58 PM
Sep 21 2015, 11:45 PM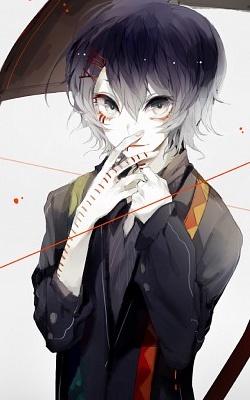 Jul 31 2015, 11:07 PM